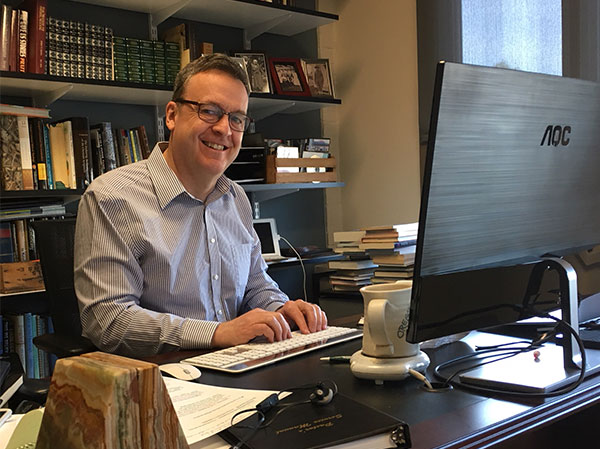 Bob Manuel, Co-Pastor at Crossway Community Church
The best "plug" I can give you for the fellowship of CrossWay is that when I came here in 1997 I was tired and more than a bit beat-up from a previous ministry. The believers here cared for my family and me by giving us the space we needed to heal.
I have been happily married to my wife Sue since 1983. We have been blessed with four kids; two grown and two still at home and one grandchild. One of our older children, Jared, has Down Syndrome. He still lives with us and has been one of God's greatest blessings in life.
My other interests include sports (Chicago Bears, Cubs, and my adopted teams, the Detroit Tigers and Lions), reading (some favorite authors: Wendell Berry, Tim Keller, Don Carson, Frederick Buechner, John Piper, and Eugene Peterson), gardening, and the outdoors. I am particularly interested in the many ways in which God's power intersects with our weakness and, what it means/looks like to be the church, the people of God in a particular place. So much of both of these interests (God's power/our weakness, being the church in place) is often at odds with how we "do" and understand the contemporary evangelical church. If you sometimes feel "at odds" with church (or just odd!), come join us. You might find a home here.
I am a graduate of the Grand Rapids School of the Bible and Music (diploma), Grace College & Seminary, Winona Lake IN, (B.A. M.Div.) and Trinity Evangelical Divinity School Deerfield IL. (D.Min.).
Bob Funk, Co-Pastor at Crossway Community Church
What makes your spirit soar? I really enjoy books, guitars, motorcycles, sunny days and chocolate almond ice cream cones (Jesus' favorite too, I think). There is something about the joy of music – from the blues to the Beatles to contemporary Christian worship songs – that sets my spirit free. I also "come alive" when I glide through the countryside on my Harley under God's (sometimes) blue skies with friends, while we forget the cares of the world for a while and simply revel in the moments together amidst God's glory shining through his creation. (I follow that with ice cream whenever possible.)
I also and especially love my wife, Florence, and our family. I am committed to them and most grateful for them. We have two grown and married children- Nathan and Sarah, and five grandchildren. I shouldn't forget our grand dog, Abe, a Golden Retriever. These likes and loves of mine are gifts from God. That is why I am passionate about what I call "loving God and living well". I am energized by coming alongside others who are committed to Jesus Christ and the greatest of
all commandments- loving God with all our heart and soul and mind and strength.
In response to the gospel, the good news of God's love and grace in Jesus Christ, I want to grow in the knowledge and love of God. Everything else follows from that priority, finding its purpose, place, and power. My journey in following Jesus Christ is somewhat unique. God has moved me around a bit in the world of Christianity. I was born into a Roman Catholic family and educated as a youth in both Catholic and secular schools. After college (B.A., Westminster College, PA) and seminary (M.Div., Princeton) I was ordained as a Presbyterian minister and served three churches in Pennsylvania and Michigan (also earning the D.Min. from Pittsburgh Theological Seminary). I then served as a church planter of a non-denominational church, which later united with First Evangelical Free Church, now called "CrossWay Community". Both churches sensed that we were led by the Lord to partner together, serving God's Kingdom as one loving family in Christ.
I am excited about God's future for us, and I really do look forward to partnering with others who are, or who want to be, committed to Jesus Christ, to loving God and living well.